| | |
| --- | --- |
| artist (F): | Johanna Leipold |
| title: | Pimpinella hat den Schalk im Nacken |
| year: | 2010 |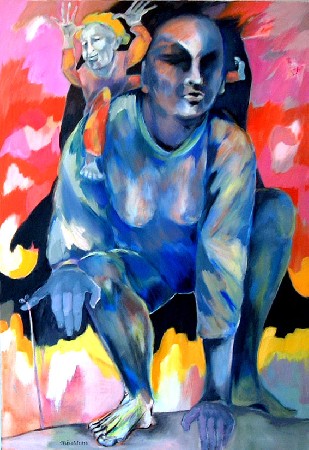 infotable to the work 'Pimpinella hat den Schalk im Nacken' from the motif section: 'people':
the picture is also available in the art-style section 'expressionism'.





| | | | |
| --- | --- | --- | --- |
| height: | 130 cm | sales option: | on query |
| width: | 100 cm | | |
| technics: | oil color technics | postal code: | 8793 |
| work's material: | mesh canvas | city/country: | Trofaiach (A) |
| | | signature: | left bottom |




long description:

ölmalerei,figur, hockender akt,rot,blau,grün,gel,schwarz,haare,gesicht,portrait.mensch,frau,kasperl,narr,skurril,fantasie,humor,


Pimpinella begibt sich stellvertretend für Frauen / Menschen in die verschiedensten Situationen. Dieser Zyklus wird nach Lust und Laune erweitert.



shipping informations: (residence of artist (F): in Österreich)

Paketdienst oder Selbstabholung







'Pimpinella hat den Schalk im Nacken'

'Johanna Leipold'




gallery of the artist (f) 'Johanna Leipold'
To get in contact with the artist,
it is necessary to register and to log in.

Besides you can bookmark this page in the browser.
Johanna Leipold




bei

K

U

N

S

T

~

L

E

B

E

N

~

C

O

M
Kunst-Leben.com
Here online since Juni, 2010.
The artist or salesman is responsible for the offer