| | |
| --- | --- |
| artist (m): | Peter Trautner |
| title: | 4ansicht1nacktenK |
| year: | 1995 |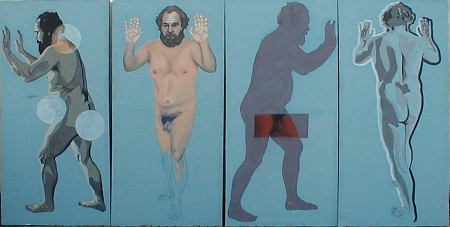 infotable to the work '4ansicht1nacktenK ' from the motif section: 'people':
the picture is also available in the art-style section 'naturalism'.





| | | | |
| --- | --- | --- | --- |
| height: | 200 cm | in our exhibtion as: | presentation |
| width: | 400 cm | price: | not for sale |
| technics: | acrylic technics | | |
| work's material: | mesh canvas | | |
| | | | |




long description:

Vier Teile des nackten Künstlers, der sich als Skulptur darstellt mit jeweils unterschiedlicher Betonung durch die Malerei. Vorderansicht möglichst naturalistisch, Seitenansicht mit verbotenem Ausschnitt, Rückenansicht mit Energielinien und die andere Seitenansicht mit den aus der Werbung bekannten Problemzonen.







'4ansicht1nacktenK '

'Peter Trautner'




gallery of the artist (m) 'Peter Trautner'
To get in contact with the artist,
it is necessary to register and to log in.

Besides you can bookmark this page in the browser.
Peter Trautner




bei

K

U

N

S

T

~

L

E

B

E

N

~

C

O

M
Kunst-Leben.com
Here online since Januar, 2010.
The artist or salesman is responsible for the offer