| | |
| --- | --- |
| artist (F): | Sabine Menke |
| title: | thevegetarienwoman |
| year: | 2009 |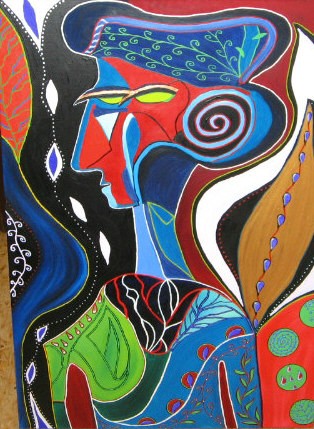 infotable to the work 'thevegetarienwoman ' from the motif section: 'bizarr-pictures':
the picture is also available in the art-style section 'abstract-art-general'.





| | | | |
| --- | --- | --- | --- |
| height: | 100 cm | sales option: | fixed price |
| width: | 70 cm | fixed price: | fixed price 350.00 € |
| technics: | acrylic technics | postal code: | 49214 |
| work's material: | mesh canvas | | |
| surface: | Leinwand, grundiert | signature: | backside |




long description:

Nach Motiven Picassos gewähltes Mädchen. Das Bild ist mit hochwertigen Künstlerfarben gemalt, zum Schutz vor Umwelteinflüssen gefirnisst, datiert, signiert und ist ein handgemaltes Unikat.
Die Ränder sind ebenfalls bemalt, so dass das Bild ohne Rahmen aufgehängt werden kann.



shipping informations: (residence of artist (F): in Niedersachsen)

Portokosten bitte erfragen







'thevegetarienwoman '

'Sabine Menke'




gallery of the artist (f) 'Sabine Menke'
To get in contact with the artist,
it is necessary to register and to log in.

Besides you can bookmark this page in the browser.
Sabine Menke




bei

K

U

N

S

T

~

L

E

B

E

N

~

C

O

M
Kunst-Leben.com
Here online since November, 2009.
The artist or salesman is responsible for the offer