| | |
| --- | --- |
| artist (F): | Karin Rab |
| title: | Zu zweit |
| year: | 2009 |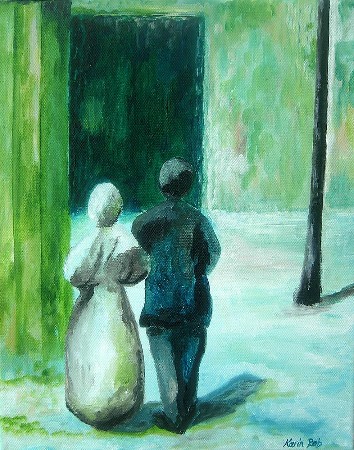 infotable to the work 'Zu zweit' from the motif section: 'people':
the picture is also available in the art-style section 'impressionism'.





| | | | |
| --- | --- | --- | --- |
| height: | 30 cm | sales option: | fixed price |
| width: | 24 cm | fixed price: | fixed price 100.00 € |
| technics: | acrylic technics | postal code: | 8302 |
| work's material: | mesh canvas | | |
| surface: | matte Firnis | signature: | right bottom |




long description:

Inspiriert von den alten Meistern, wie Monet, renoir oder Signac entstand dieses Werk.



shipping informations: (residence of artist (F): in Österreich)

Österreich: 12 EURO
Deutschland: 15 EURO







'Zu zweit'

'Karin Rab'



To the work of artist
'Karin Rab' exists 1 comment
Comment: of Mara Ruehl from Nürnberg in Juni / 2010:
Liebe Karin! WOW - eine fantastische Arbeit!! Gefällt mir wirklich ausgesprochen gut!! LG Mara (www.kunst-leben.com/MaraRuehl)

gallery of the artist (f) 'Karin Rab'
To get in contact with the artist,
it is necessary to register and to log in.

Besides you can bookmark this page in the browser.
Karin Rab




bei

K

U

N

S

T

~

L

E

B

E

N

~

C

O

M
Kunst-Leben.com
Here online since November, 2009.
The artist or salesman is responsible for the offer