| | |
| --- | --- |
| artist (F): | Angelika Doelling |
| title: | Steinadler |
| year: | 2012 |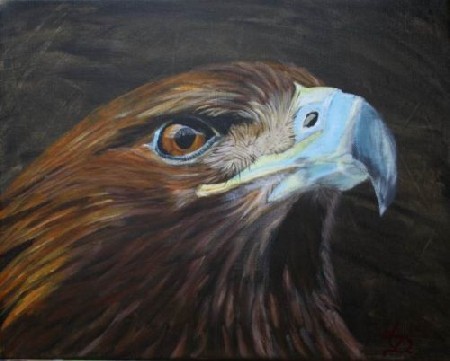 infotable to the work 'Steinadler ' from the motif section: 'animals':
the picture is also available in the art-style section 'realism'.





| | | | |
| --- | --- | --- | --- |
| height: | 40 cm | in our exhibtion as: | presentation |
| width: | 50 cm | price: | not for sale |
| technics: | acrylic technics | | |
| work's material: | mesh canvas | | |
| surface: | Glanzfirnis | | |




long description:

Kolkraben-Kopf-Studie

Das Gemälde ist in Blautönen gehalten. Das dunkle Blau signalisiert Ruhe und Tiefe. Der Kolkrabe wirkt entspannt und wachsam zugleich.

Die Seitenflächen wurden mit ins Motiv einbezogen. Das Kunstwerk wurde zum Schutz der Oberfläche gefirnist. Das sorgt für eine einheitliche Oberflächenwirkung und bringt das Acrylgemälde zum Glänzen.

Dieses Gemälde ist eine Auftragsarbeit.











'Steinadler '

'Angelika Doelling'




To get in contact with the artist,
it is necessary to register and to log in.

Besides you can bookmark this page in the browser.
Angelika Doelling




bei

K

U

N

S

T

~

L

E

B

E

N

~

C

O

M
Kunst-Leben.com