| | |
| --- | --- |
| artist (F): | Martina Gerber |
| title: | Wäldchen am Deich |
| year: | 1998 |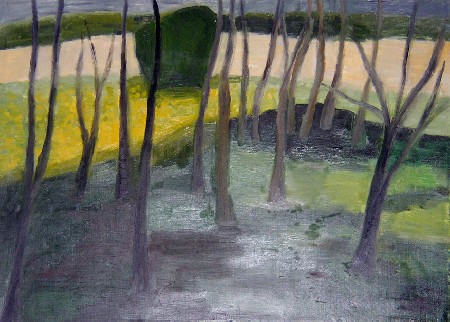 infotable to the work 'Wäldchen am Deich' from the motif section: 'landscapes':
the picture is also available in the art-style section 'naturalism'.





| | | | |
| --- | --- | --- | --- |
| height: | 36 cm | for sale as: | asking price |
| width: | 48 cm | asking price: | 700.00 € |
| technics: | oilcolor | postal code: | 10997 |
| work's material: | carton-special | city/country: | Berlin |
| | | signature: | right bottom |




long description:

Das Erlenwäldchen befand sich direkt vor meinem Grundstück auf Usedom. Im Mai leuchten die Butterblumenwiesen durch die Bäume und bilden einen wunderschönen Kontrast. Die Bäume heben sich als grafisches Element von den Hintergrundflächen ab.



shipping informations: (residence of artist (F): in Deutschland)

Das Bild kann – gegen Aufpreis – mit einem weißen Halbe-Magnetrahmen geliefert werden. Versicherter Versand mit DHL. Zusätzliche Versandkosten auf Anfrage.







'Wäldchen am Deich'

'Martina Gerber'




gallery of the artist (f) 'Martina Gerber'
To get in contact with the artist,
it is necessary to register and to log in.

Besides you can bookmark this page in the browser.
Martina Gerber




bei

K

U

N

S

T

~

L

E

B

E

N

~

C

O

M
Kunst-Leben.com
Here online since Oktober, 2009.
The artist or salesman is responsible for the offer