| | |
| --- | --- |
| artist (F): | Karin Rab |
| title: | Aufstieg |
| year: | 2012 |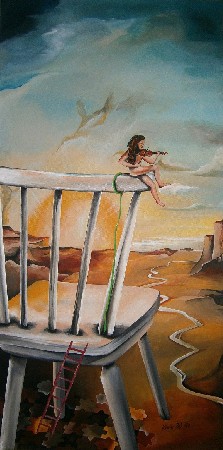 infotable to the work 'Aufstieg ' from the motif section: 'phantastics':
the picture is also available in the art-style section 'surrealism'.





| | | | |
| --- | --- | --- | --- |
| height: | 80 cm | in our exhibtion as: | presentation |
| width: | 40 cm | price: | not for sale |
| technics: | acrylic technics | | |
| work's material: | mesh canvas | | |
| | | | |




short description:

artist (F) 'Karin Rab' didn't add any description to the work 'Aufstieg '. For asking more about the work please log in and take contact to artist (F) 'Karin Rab'.







'Aufstieg '

'Karin Rab'



To the work of artist
'Karin Rab' exists 1 comment
Comment: of Mara Ruehl from Nürnberg in Juni / 2010:
Liebe Karin! WOW - eine fantastische Arbeit!! Gefällt mir wirklich ausgesprochen gut!! LG Mara (www.kunst-leben.com/MaraRuehl)

gallery of the artist (f) 'Karin Rab'
To get in contact with the artist,
it is necessary to register and to log in.

Besides you can bookmark this page in the browser.
Karin Rab




bei

K

U

N

S

T

~

L

E

B

E

N

~

C

O

M
Kunst-Leben.com